BC Wildlife Federation
Who We Are
The BC Wildlife Federation is British Columbia's largest and oldest conservation organization. Our 50,000 members are passionately committed to protecting, enhancing and promoting the wise use of the environment for the benefit of present and future generations. Our volunteers and donors give generously of their time and finances to support to a wide range of wildlife conservation programs and projects.
Join Us Today!
__________________________________________________________________________________________________________
The BCWF Response to Provincial Government Announcement to End Grizzly Trophy Hunt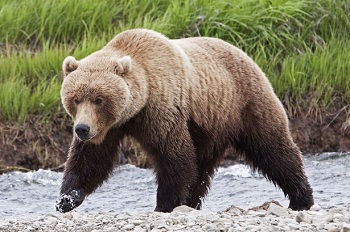 The provincial government has announced they will end grizzly bear trophy hunting throughout the province and stop all hunting of grizzlies in the Great Bear Rainforest after November 2017.
Hunting grizzlies for meat outside the Great Bear Rainforest is not included in the ban, but the government has said they will forbid a meat hunter from possessing the paws, head, and hide of a grizzly. This announcement is inconsistent with the North American Wildlife Conservation Model, which stipulates harvested wildlife should be used for legitimate purposes, including retrieving the fur and meat where usable. Requiring hunters or anglers to throw useable portions of their harvest away is wasteful and inconsistent with sustainable use.
Harvey Andrusak, President of the BCWF said, "The province must maintain a science-based hunt to determine if there is a sustainable harvest which includes the opportunity for hunters to utilize all portions of any animal or fish harvested. We cannot be managing fish and wildlife on a one-off basis. All wildlife management must be consistent with science-based recommendations."
Biological data obtained from the hide and skull provides critical data to scientists. BCWF staff and executive met with government representatives yesterday to stress the importance of making sure experts maintain the opportunity to obtain valuable data from any animal harvested. The government has said they will meet with First Nations and all affected groups in the fall and the federation will be continuing to stand up strongly for science-based management of all wildlife species.
The BCWF supports a regional roundtable approach, with specific conservation measures and social considerations discussed with residents, First Nations, commercial and recreational sector representatives before wildlife management policy is changed or adopted.
We need your help! To be effective, members need to speak with their MLAs to educate them about this issue and stress the importance of maintaining hunting practices that do not waste any part of any animal taken. Find your MLA here.
BCWF Resident Priority Program manager Jesse Zeman participated in a panel discussion on CBC Almanac at noon on August 15, 2017, stressing these points and advocating for adequate funding for wildlife management in BC.
President of the BCWF- affiliated Spruce City Wildlife Association Steve Hamilton was featured in this story in the Vancouver Sun.
The BC Wildlife Federation will continue to support recovery efforts for grizzly bears in areas where populations are under threat and to advocate for increased funding and science for wildlife management in BC.
---
BC Wildlife Federation Year in Review
____________________________________________________________________________________________________________
The BC Wildlife Federation has launched an online petition calling on the BC government to increase funding and to set objectives for our fish, wildlife and habitat.
BC is one of the most biodiverse jurisdictions in North America and at the same time one of the most under-funded.
The intent of the petition is to convey the importance British Columbians place on fish, wildlife and habitat.