---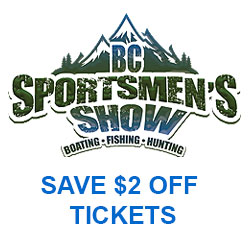 Once again, the BCWF will be at the BC Sportsmen's Show in Abbotsford from March 2nd to March 4th.
BCWF Members can save $2.00 off tickets when they purchase them ONLINE by clicking the button below.
We're also looking for volunteers to help us man our booth and talk to the public about our mission, recent projects, membership and donations. Please contact us ASAP is you are able to donate a little of your time to help out!
---
Becoming an Outdoors Woman Weekend
The first BOW camp of 2018 is now open for registration. May 25th to 27th located at the beautiful Easter Seals Camp in Winfield BC.
Registration fills up quick so register today. Visit us often for updates on future camps and registration forms.
If you have any questions, please email This email address is being protected from spambots. You need JavaScript enabled to view it. , our BOW Provincial Coordinator.
Click here for more information.
---
Conservation Lottery
This raffle supports the ongoing efforts of the BC Wildlife Federation whose aims are to protect, enhance and promote the wise use of the environment for the benefit of present and future generations. Proceeds from the Conservation Lottery will be used to fund a variety of conservation and education programs.
Click here for more information.
---
Youth Programs
Wild Kidz is a child's first step into the BCWF's Youth Program and aimed at youths aged 9-12. Each camp shares base programming such as shelter-building, fire-building, orienteering (compass work), and outdoor education (e.g. bear-aware and hug-a-tree programs) combined with a small science curriculum each year.
Click here for more information
Go Wild! Youth for Conservation is a 5-6 day leadership day camp with a focus on conservation. Aimed at youths aged 13-17, Go Wild incorporates some of base outdoor education programming (e.g. shelter- and fire-building) but primarily provides workshops on leadership and conservation
Click here for more information
---
Spring/Summer 2018 Wetlands Education Programs
Our Wetlandkeepers, Wetlands Institutues, Wild Kidz Camps, Map our Marshes, Restoration and Design Workshops dates have been posted!
Click here for more information
---
Fishing Forever
The program provides an opportunity for people with disabilities to learn to, or continue to, fish and enjoy the outdoors. Each year, BCWF affiliated clubs host Fishing Forever events across BC, recognizing that there are people in their community that could benefit greatly from a day out fishing, if they could only get there. Each year for hundreds of disabled anglers, these Clubs help make that happen.
Click here for event dates and locations
---
C